Technology is changing the world day by day, which explains why enterprise software has become an inevitable trend of any business if it wants to maintain a competitive advantage.
Enterprise software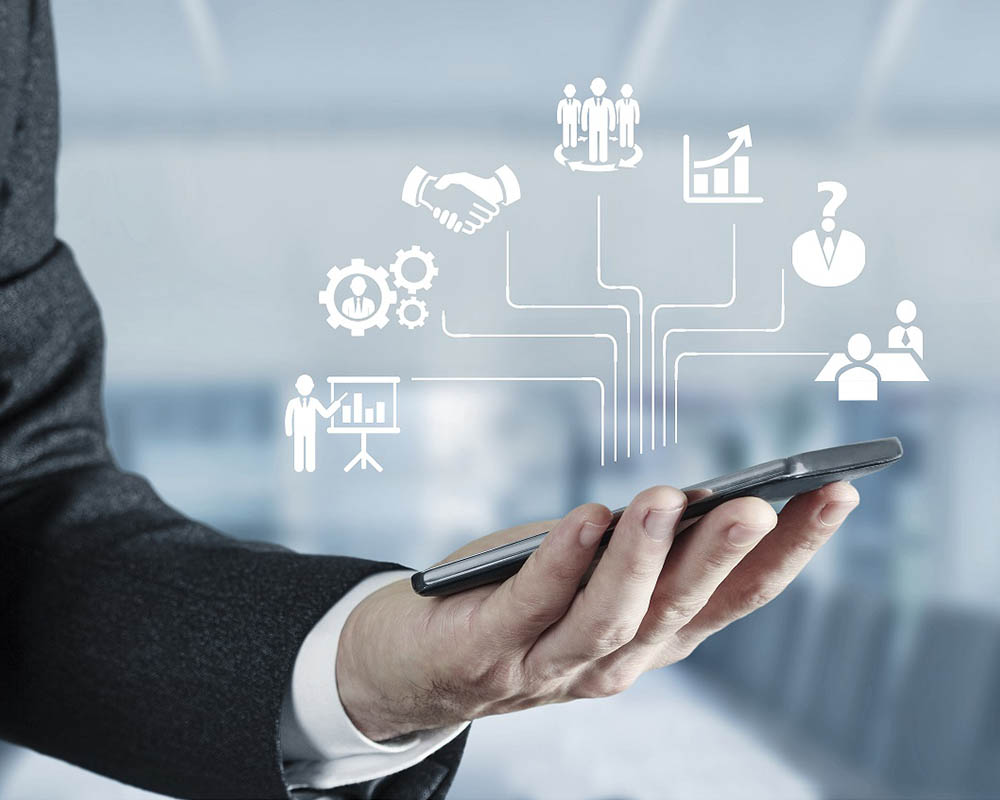 Enterprise software is the application of information technology to the management, operation and coordination of operations in an enterprise in order to bring about comprehensive efficiency and ensure the sustainable development of the enterprise. Many businesses have used enterprise software to manage one of the company's operations such as project management, human resource management, customer relationship management, warehouse management,… to optimize time, minimize costs as well as increase efficiency in the business.
Common functions
HR Management Enterprise Software
Companies will often have multiple employees and a human resources department to handle recruitment, promotion, appointment, retirement, leave, etc.
These jobs play an important role in businesses and have huge workloads. Therefore, having enterprise software to assist HR staff in their work is imperative for most businesses.
Customer Support
An enterprise usually have many customers who are always having problems and need help to solve them. That's why most businesses will have some kind of call center where they respond to customer inquiries, by phone, email, or live chat.
By tracking metrics like the average time it takes to solve a problem, the total effort spent on each problem or the number of problems recorded per day,… enterprise software helps managers have a clear view of customer care efficiency, thereby minimizing customer care costs.
Warehouse management
Knowing the amount of inventory, you can balance, keep the inventory turnover rate high, avoid the situation of damaged goods, past expiration dates or too long capital. Enterprise software with an inventory feature will give you a detailed inventory report with items that are over the maximum or below the minimum quota. This will assist the manager in making the decision to stop importing or replenishing with which items. Thereby, increasing the efficiency of capital use, reducing the situation of capital stagnation due to excessive imports and inventory.
Financial management
Financial management is one of the important keys to the success of a business. However, good financial management sometimes requires a lot of time and effort.
Enterprise software can meet the requirements of administrators in tracking financial data, revenue and expenditure, cash management, capital management, customer liabilities, assets of the business,… As a result, managers have a better overview of the financial activities of their business and make decisions suitable for each different period.
Enterprise software development at Innotech Vietnam
Today, you can come across a wide variety of software outsourcing providers in Vietnam. Many clients worldwide are searching for a trusted service provider with a good track record. Innotech Vietnam has lots of experience to works with customers from many countries including The USA, Australia, Singapore, Japan,…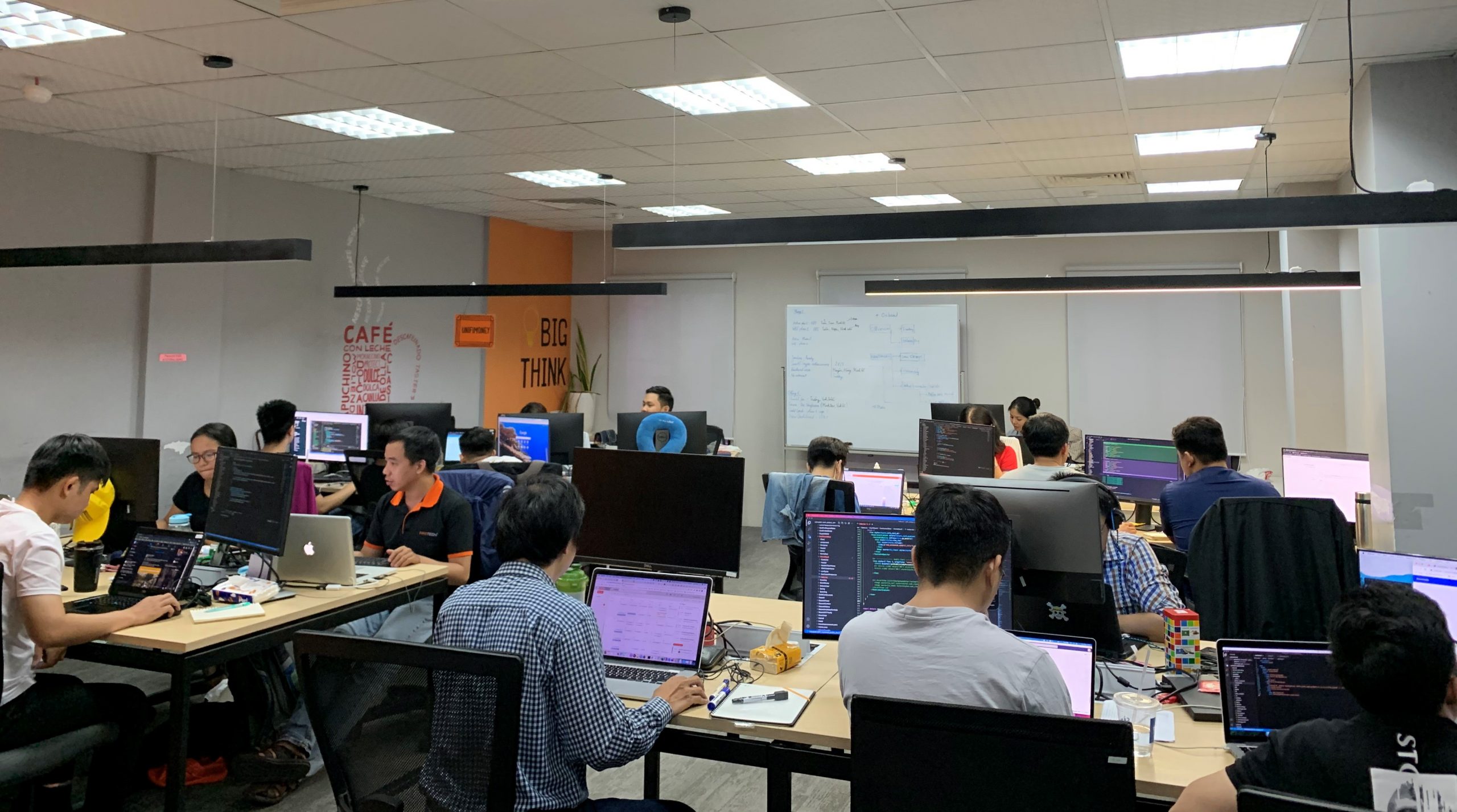 At Innotech Vietnam, we strive for the creation, innovation, development, and advanced solutions. We provide a wide range of software services to meet all requirements and expectations from customers. We turn these advanced technologies into value for our customers through our professional solutions and business service worldwide. Currently, the KingWork Cloud-based Human resource management system is one of our services that receive the attention of many top businesses.
KingWork enterprise system is a prominent icon, which represents the creation, innovation, comprehensive development, and advanced solutions. We provide a multitasking HR software to meet all expectations, and automatically support any requirements from customers. We turn all HR difficult issues into easy as much as possible and deliver value for our customers through our professional platform.
With KingWork, you can be certain that each of your human resource issues will be addressed with specific solutions which are all integrated into one platform, including: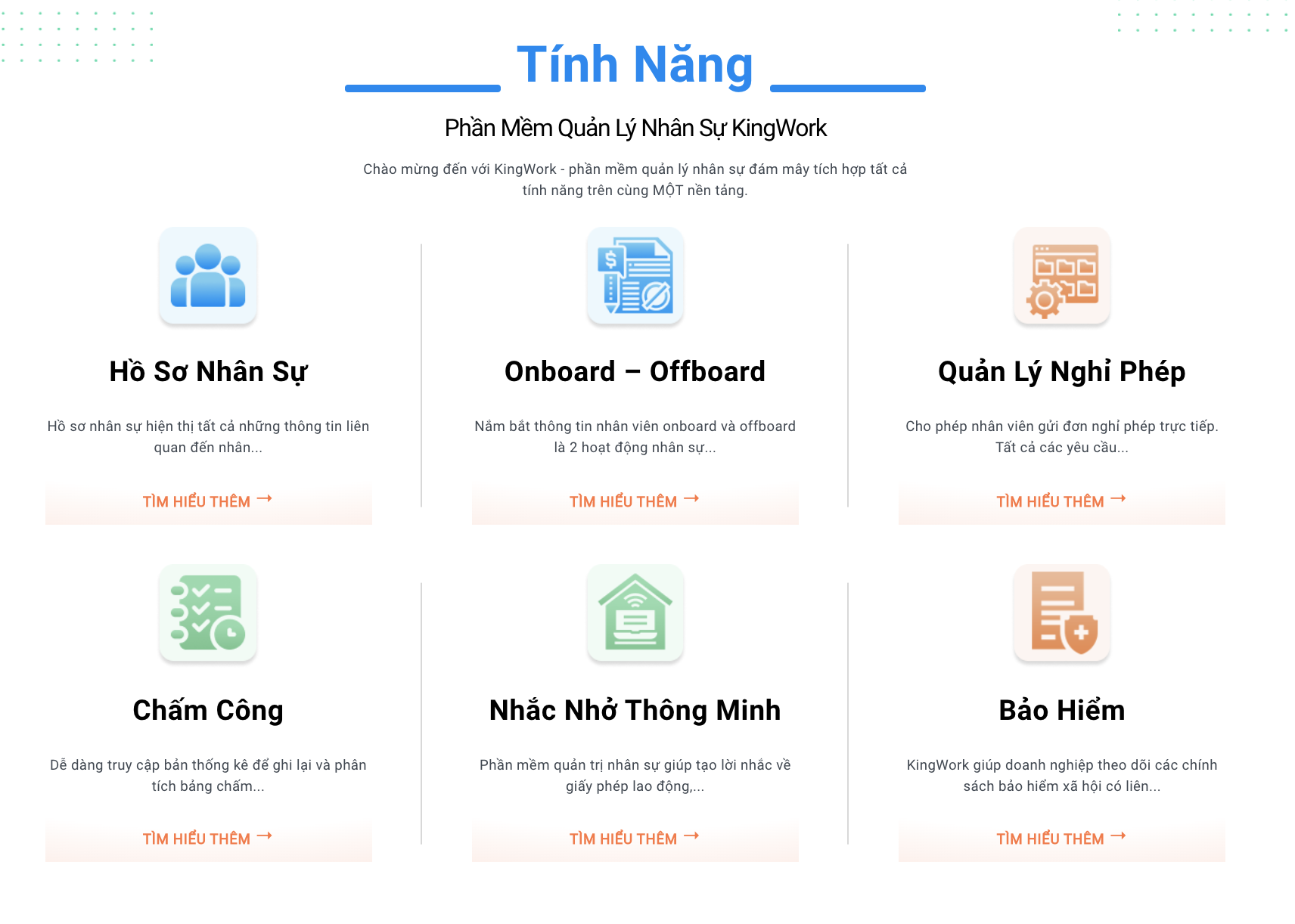 Personnel: Manage employee profile, documents, and personnel-related operations in an enterprise system.
Onboard – Offboard: Manage payroll, benefits, legal documents, as well as control electronic devices and information access from onboard to offboard with KingWork.
Leave Management: Manage, track and categorize every employee's leave days.
Smart Reminder: Remind you with every HR special event from work permit, anniversary to employee's birthday.
Insurance: Manage insurance records, perform insurance-related operations.
Timekeeping: Manage actual working days of employees and employees leaving.
If you are looking for a straightforward HR software that has an affordable price to improve your enterprise system, KingWork's free trial period is now available. We don't require any confidential information to complete the trial procedure as ID number, credit card, bank account.
Take a tour to see how we help enterprises manage their mployees in super security and cost optimization by KingWork.