Software development outsourcing in Vietnam costs 50% less than the rivals from India and China. 
Hiring outsourcing development companies in Vietnam is cheaper than China, India
Currently, India and China are industry leaders for outsourcing development companies. Vietnam market started to emerge as a new outsourcing site. With offshore developments including:
Automation
Digital Transformation

etc.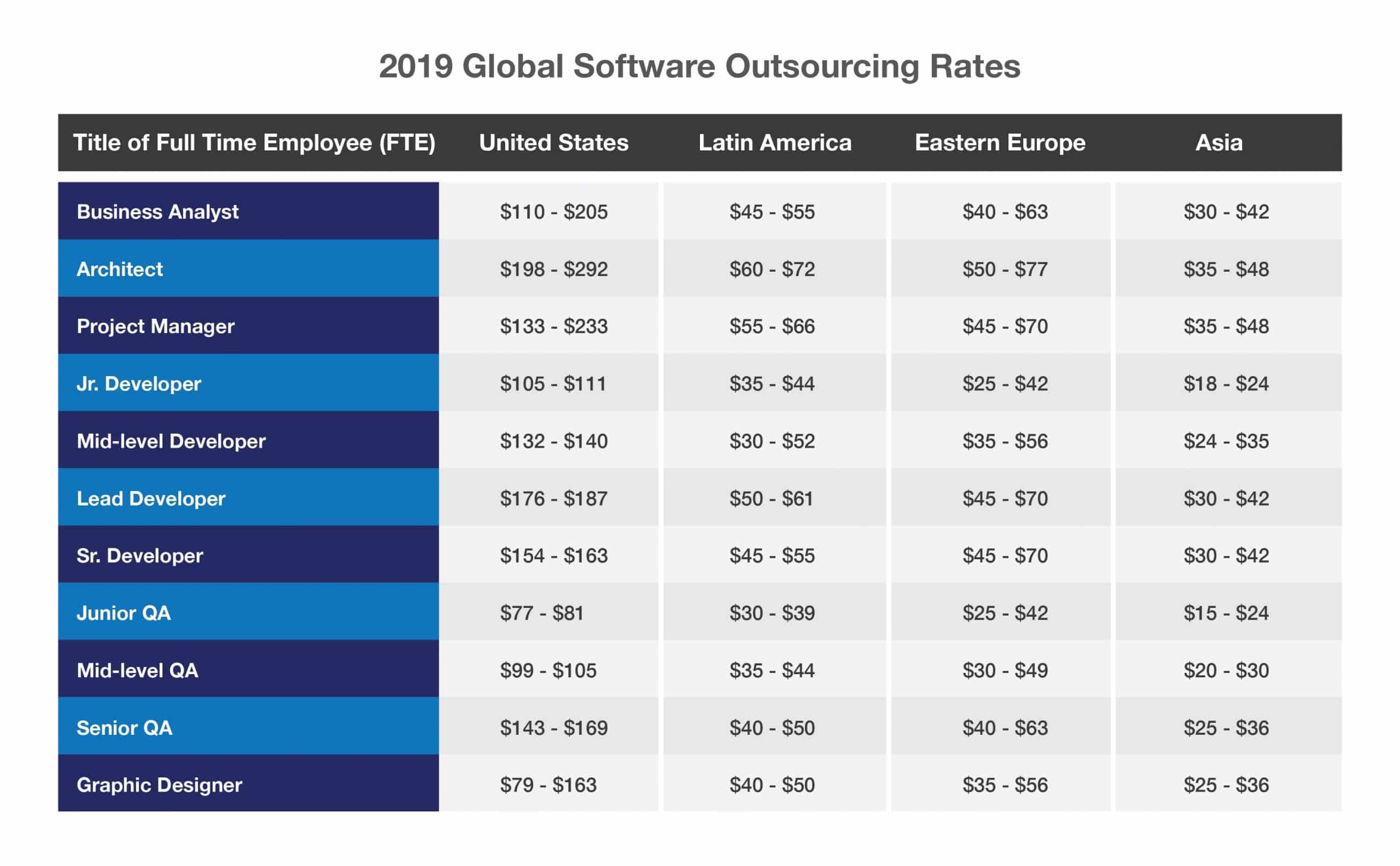 2019 Global Software Outsourcing Rates
Because Outsourcing in Vietnam is being recognized as a high-quality software manufacturer in Asia. According to CIO magazine, software development outsourcing in Vietnam is about 90% cheaper than hiring the US labor force. Compared to India, software development outsourcing in Vietnam is cheaper from one-third to one-seventh. These are figures that foreign companies are really considering to set the location for their offshore software development in Vietnam. When the Indian and Chinese markets have entered the maturity cycle, the cost of processing will tend to increase. Outsourcing to Vietnam means a lot to companies looking to develop the most cost-effective way. Outsourcing service ranking by Global Service Location Index 201, Vietnam ranks 20th among the top countries recognized as excellent outsourcing destinations.

Cost of outsourcing software in Vietnam, India and China
Vietnam's software engineer workforces are high-quality
Vietnam is in the "golden population" phase of the world, with more than 60% of the population under the age of 30. Each year more than 25,000 engineers graduate from universities in Vietnam.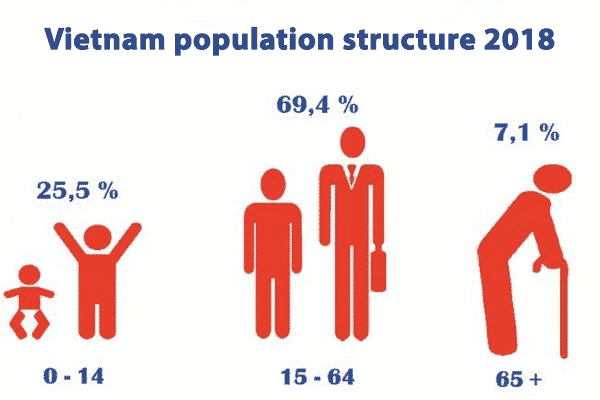 Vietnam is in a period of golden population
Young Vietnamese with better education have overcome the English language barrier previously thought to be a weakness. At the same time, a software outsourcing company has provided a large pool of skilled software developers required to meet growing offshore demand.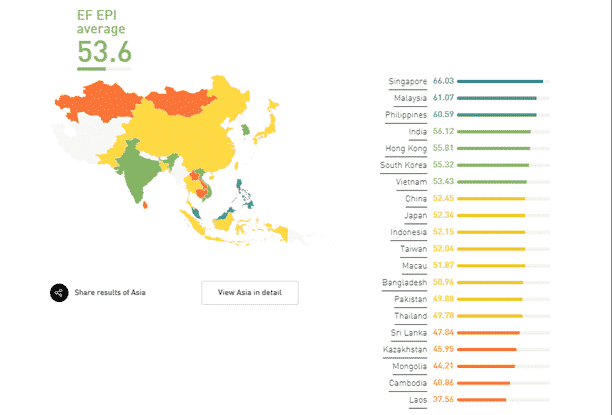 Vietnam ranked 7 out of 20 in Asia according to the evaluation of EF EPI
With a strong economy, there is unbelievable growth; Vietnam is considered a dynamic country with great processing potential. With a stable and safe government, it is now considered a legitimate country under one roof. In an international survey conducted in 2002, Vietnam was the safest country to travel in Asia. The Vietnamese government is promoting its economy for more foreign investment. It provides great incentives in the IT industry to take advantage of globalization.
Companies have begun to take advantage of this wonderful opportunity of outsourcing in Vietnam with low cost and superior quality. Vietnam is on the way to write a new chapter in software development outsourcing history. The world will follow this new revolution in offshore software development taking place in Vietnam. As an emerging outsourcing destination, Vietnam will be a perfect fit for companies seeking a technological advance without spending a lot of money.
How To Find The Right Offshore Software Development Company In Vietnam
Nowadays, there are many offshore software development companies in Vietnam. The problem is identifying the right one for your business is indeed critical. 
Starting by defining what your business really want
Before you go to find potential partners, ensure you know exactly what you want to gain from offshoring. Setting specific goals is crucial. Considering writing a proposal, in which you define the kind of projects, your ability, growth target and existing problem – fundamentally anything you need in the projects.
Through this step, you have had a clear view of your expectation of team size, skill level, and other key details, which means you can exactly convey your needs to the offshore software development companies. In addition, by evaluating the ability and past successes of the offshore team you can more easily assess how suitable the offshoring company appears for your business. Subsequently, you can opt for an offshore or onshore company based on your requirement and the nature of your project.
Technological expertise
After finding out exactly your business needs and the kind of software the next step is about choosing the right offshore software development company which will decide the result of your project.
Make sure that offshore developers have primary knowledge of the coding language you wish to use on your project. The common coding languages in use today are JavaScript, Python, SQL, C++, Ruby. Look for companies with skilled resources across the software product life cycle, with specialized skills in product conceptualization, design, documentation, and modernization.
Besides, providers always stay up-to-date with all the latest technologies, apply agile software development methods or frameworks like ASD, XP, Disciplined agile delivery, Agile modeling, Agile Unified Process(AUP).
Experience on Similar Projects
Knowing about your potential offshore development partner better is absolutely necessary before you make any decisions. How do they work? What kind of skills do they provide? Could they be able to fulfill all your requirements?
You can check out their website to see what they offer and  What benefits you get from this service. Considering their clients and references of clients might also prove useful, as you will get on-hand experiences from people who have worked with that company in the past.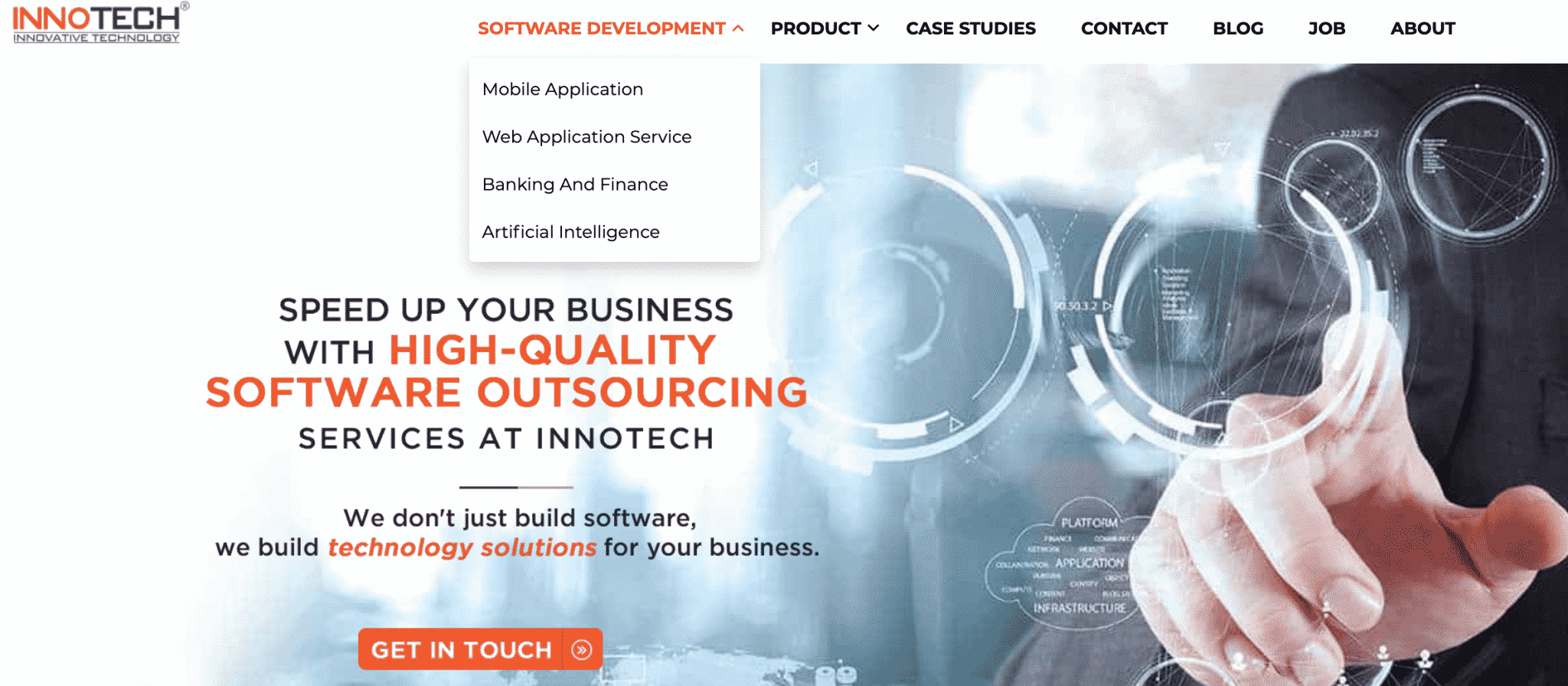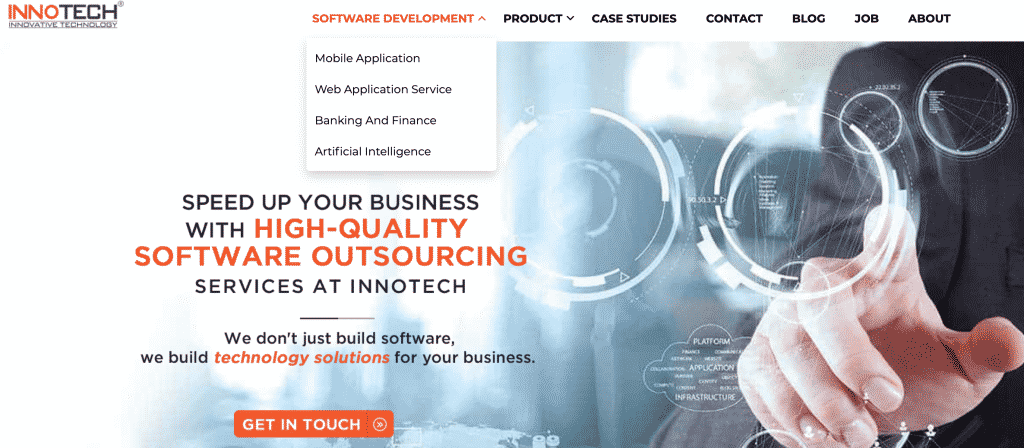 INNOTECH's website homepage
Only those companies that have prior experience in handling the same projects will really understand your objectives and will ensure proper techniques are followed in order to meet all regulatory standards set by the industry. In the software industry in Vietnam, many new software outsourcing companies appear, just as many software outsourcing companies disappear. Therefore you need to ensure the offshore software development company has the longevity to maintain your software.
Ensure that the legalities are in place
The next important thing is the legalities. Ensuring to perform a thorough background check so that you check the integrity and reliability of the offshore software development company. Because offshore software development can have access to your secrets information. For that reason, your business has to evaluate the legal perspective of the offshore software development company. 
Security
Security is crucial during the development process and after the project is completed and deployed. You have to know how your product will be secured and managed completely. Ask about the security measures in place to keep your intellectual property safe. Whether you are planning to outsource your project long-term or short-term, following these tips will ensure you find the best company match for you and your business.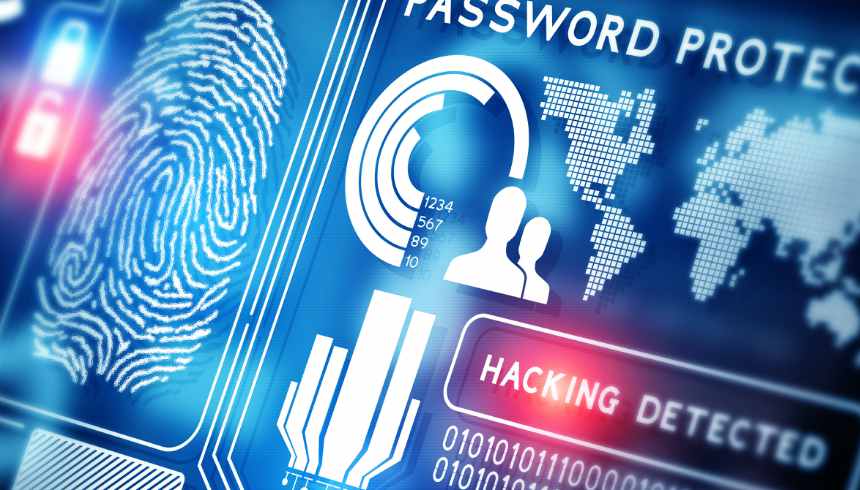 Ensure your partner has options to protect your intellectual property
Main Steps Of Software Development
Outsourcing
Hiring an offshoring company to work with is actually a very simple process. It simply requires companies to find a good offshoring company, choose the right vetted developers, and begin working. 
But clear communications and objectives are the keys to realizing the true benefits offshore software development teams can offer. Below are some key things to do before beginning with an offshore software development partner. 
Clearly outline the company's needs
What skills/programs/frameworks do the outsourced staffers need to have? What level of experience would customers prefer? Examine the projects companies need to be done, and lay this out specifically. The offshore software development partner will help ascertain these things and develop an action plan.
 
Establish Budget
Once the company knows the number of budgets, this offshore development partner can help configure customers in such a most efficient way for it. Uniting the budget at the beginning will make it clear toward cooperation. 
Determine The Management Process
Would companies prefer to manage offshore talent directly? Or do they need to have project managers/senior engineers that manage the daily planning and direction themselves? There are lots of options for companies to hire that work the way they need.  
Set A List Of Targets To E
valuate And Measure
Aiming for a successful project with the software development outsourcing partner, companies need to set a clear goal/ target at the beginning. Based on the list of targets and ways to measure the result, developers can live up to the customer's expectations. Furthermore, they will be able to implement the project without any confusion or conflict in the process.  
---
Innotech Viet Nam Corporation is a software outsourcing company focusing on high-quality services in Viet Nam. At Innotech Vietnam, we strive for the creation, innovation, development, and advanced solutions. We provide a wide range of software services to meet all requirements and expectations from customers. We turn these advanced technologies into value for our customers through our professional solutions and business service worldwide.
Contact experts at Innotech Vietnam for any questions about Vietnam software outsourcing questions!
Email: [email protected]
Share your information