IT Outsourcing Cost – Post-pandemic cuts in resources led many organizations to look for ways to reduce costs and time by adopting new operating models for online and remote work. 
Outsourcing has proven to be a cost-cutting and time-saving option because of its scalability and flexibility. However, it was difficult for corporations to estimate the whole cost of outsourcing. This article will give you a detailed complication of any IT outsourcing corporation's rates around the world. 
Related Article: IT OUTSOURCING FROM A TO Z: EVERYTHING YOU NEED TO KNOW IN 2022 
A. TOTAL IT OUTSOURCING COSTS
In response to a severe lack of talents, the rapid pace of digital change, and the need for remote team, many firms have turned to IT outsourcing developers to fill in the gaps. To know how much will outsourcing cost, you need to look at both the direct and indirect costs. 
1. Direct Costs
Direct costs in outsourcing are the expenses you have to pay. These expenses include a developer's salary, taxes, insurance, vacation and retirement plans, as well as one-time bonuses, overtime, and other expenses. 
1.1. Average Salary for an IT Outsourcing Programmer
Most of outsourcing software development's expense is due to compensation. Depending on your project requirements, budget, and complexity, you may opt to hire a freelancer, an extended team, or a full cross-functional team to provide you an end-to-end solution. 
The salaries you'd be paying will differ depending on the factors outlined above. 
1.2. Developers Rates By Region
59% of global corporations employ an IT outsourcing team to reduce costs. While IT outsourcing developer prices vary by location, you may still save 40% to 70% on overall payment. In Latin America, IT outsourcing prices vary from $35 to $70; in Eastern Europe, developer rates range from $30 to $65; and in Asia and Africa, outsourcing developer rates range from $20 to $45 on average. 
The following comparison of IT outsourcing rates is only meant to be used as a general reference because it ignores the distinctions between various kinds of cooperation. You'll need to speak with vendors directly if you want more precise information on their outsourcing pricing.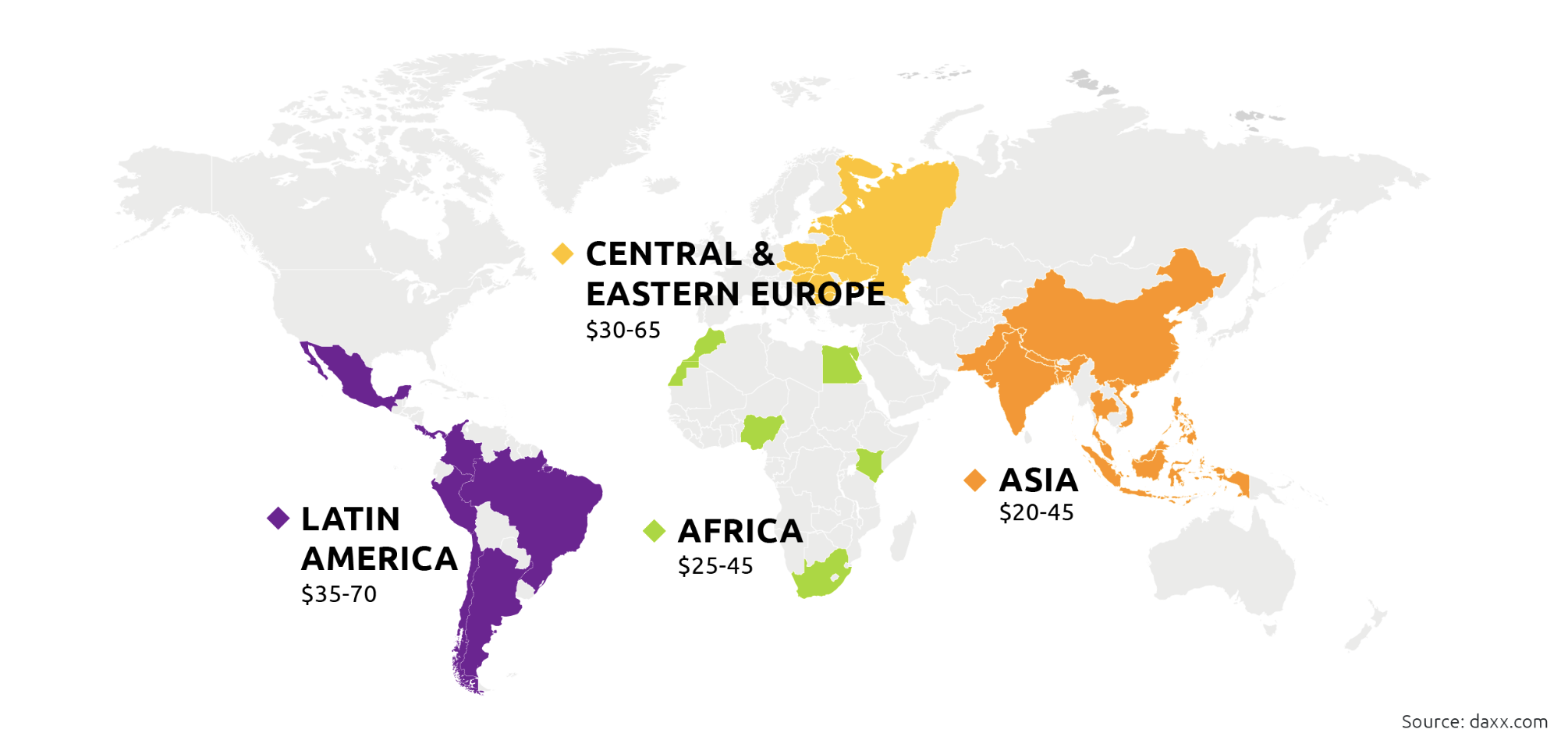 1.3. Developers Rates By Major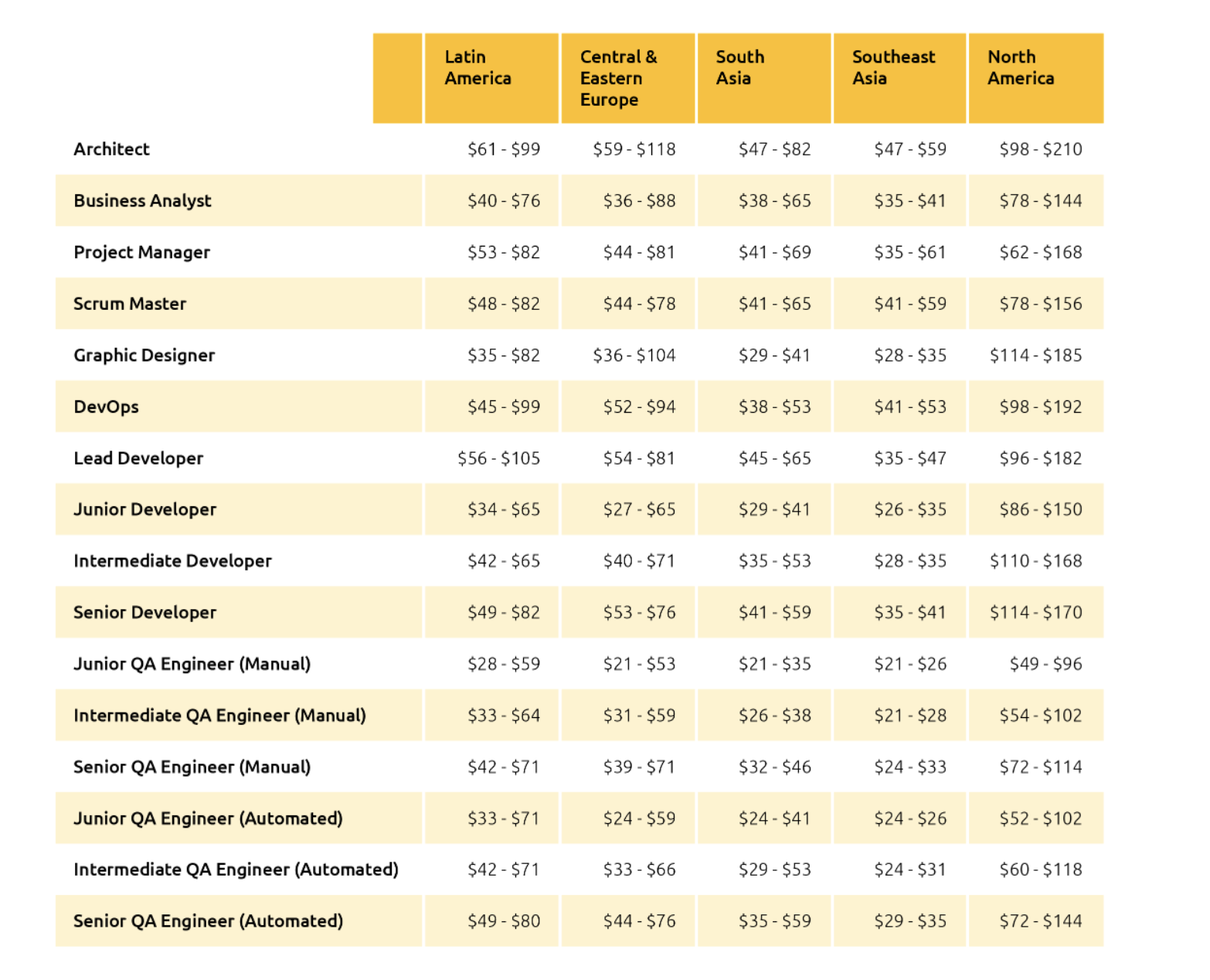 Source: Accelerate
1.4. Developers Rates by Country
Vietnam IT Outsourcing Hourly Rates
Vietnam has a highly-technical workforce force, low salaries, and improved English language proficiency skill tools to gain a position in the top IT outsourcing countries. 
The hourly wage for IT outsourcing software development in Vietnam is between $20 and $40. 
The fees per hour start from $18 to $22 for top-quality engineers. Vietnam is a new rising market and an investment in the country is beneficial with 30 percent to 40 percent lower expenditures than in China. 
Related Article: [2022 UPDATE] TOP 10 OFFSHORE SOFTWARE DEVELOPMENT TEAMS IN VIETNAM 
Polish Developers Hourly Rates
According to our study, the outsourcing fees among Polish software development organizations range between $20 and $75 per hour. If you pick one of the outsourcing businesses in Poland, the average lowest software development fee will be $43, while the highest average will be $65. 
Brazilian Developers' Hourly Rates
Hiring a programmer in Brazil will cost you roughly $15–$60 per hour. Pay varies widely by city, level of expertise, and other factors. However, based on our analysis, you will have to pay $15+ to a junior software engineer in Brazil, while a senior programmer would cost you up to $60. As a result, the typical Brazilian day fee is between $280 and $400, based on the country's $35–$50 hourly cost. 
Argentinian Developers' Hourly Rates
Argentina is a popular outsourcing location because of its minor time difference with the US clients and large average wages ranging from $35 to $50 per hour. Junior software engineers expect the lowest hourly wage starting from $13 per hour, whereas experienced programmers expect to be paid roughly $42–$50 per hour. 
India Developers' Hourly Rates
Hiring offshore developers in India could cost you roughly $19–$40 per hour. Large firms and multinationals frequently outsource their work to India. And just like with any IT outsourcing location, the cost of hiring Indian developers will vary based on the degree of skill you're seeking. 
Chinese Developers' Hourly Rates
China, along with India, is a low-cost destination for IT outsourcing. While the typical hourly rates are $19–$38, young developers can be recruited for as little as $12 per hour while seniors may request as much as $40 per hour for their employment. 
Egyptian Developers' Hourly Rates
Africa's rising software talent giants include Egypt, Nigeria, and Tunisia. Moreover, Egypt's tech talent market offers reasonable prices for software engineering services. The typical hourly wage for a medium-sized business is between $25 and $45. Junior developers may be recruited for $18+ per hour and senior developers would cost you roughly $33–$50 per hour. 
Ukrainian Developers' Hourly Rates
The typical hourly wage for a Ukrainian developer is between $30 and $60. 
South African Developers' Hourly Rates
South Africa has the highest offshore IT rates in Africa. The medium hourly wages range from $25–$45. For a junior developer, you'll pay $21 per hour; for a senior expert, you'll pay $52 per hour. 
1.5. Developers Rates In Eastern Europe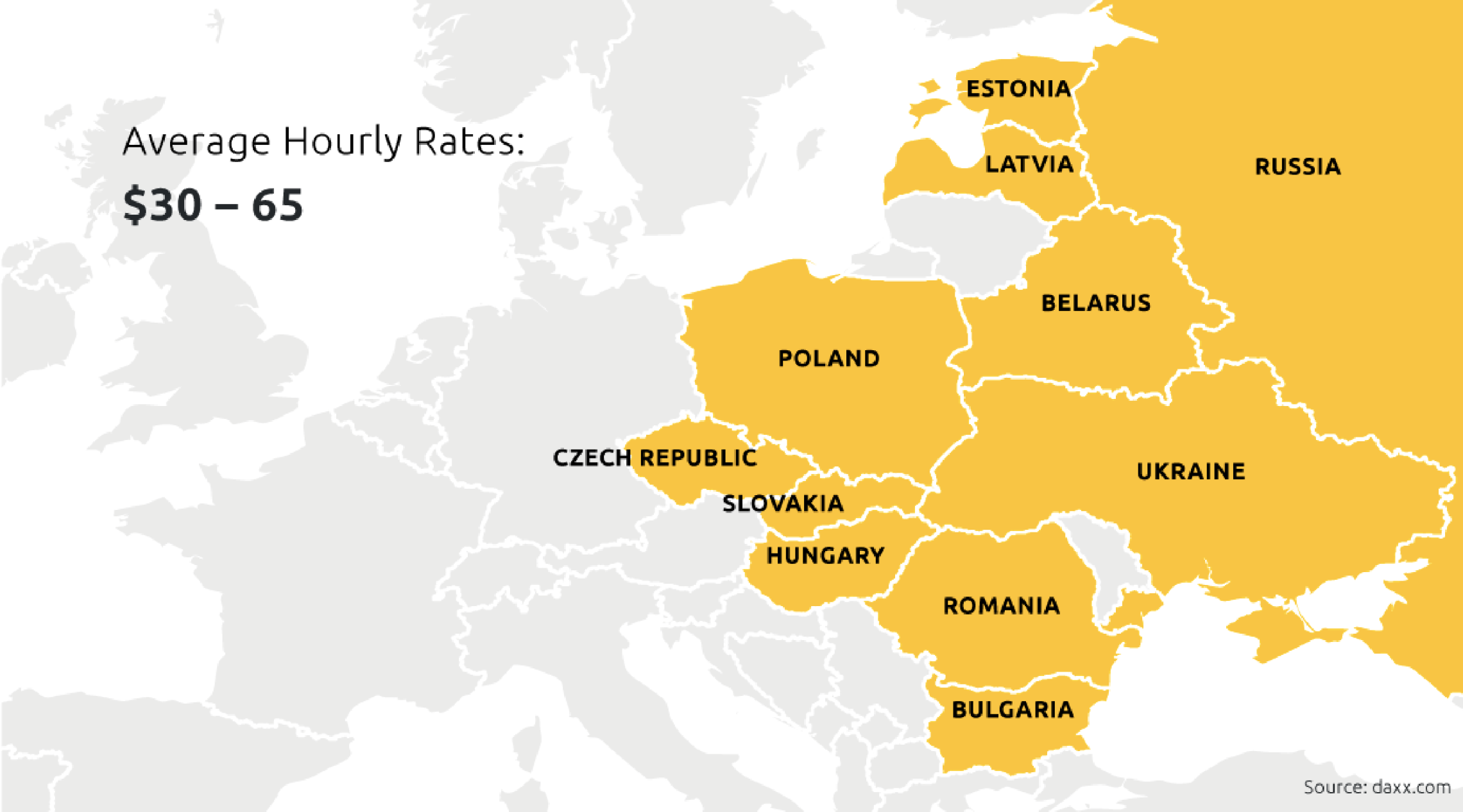 On average, offshore software development prices for an entry-level software developer start at $25 per hour and climb up to $60 per hour for a senior software engineer.  
Eastern Europe is a middle ground where you can recruit high-quality outsourcing developers at reduced prices without compromising the quality. The area is well-known for its high concentration of software engineers, with 1.3 developers per 100 residents.  
Currently, the IT business in the zone has over 1 million software developers throughout Eastern Europe, making it a profitable IT outsourcing location. 
1.6. Developers Rates In Asia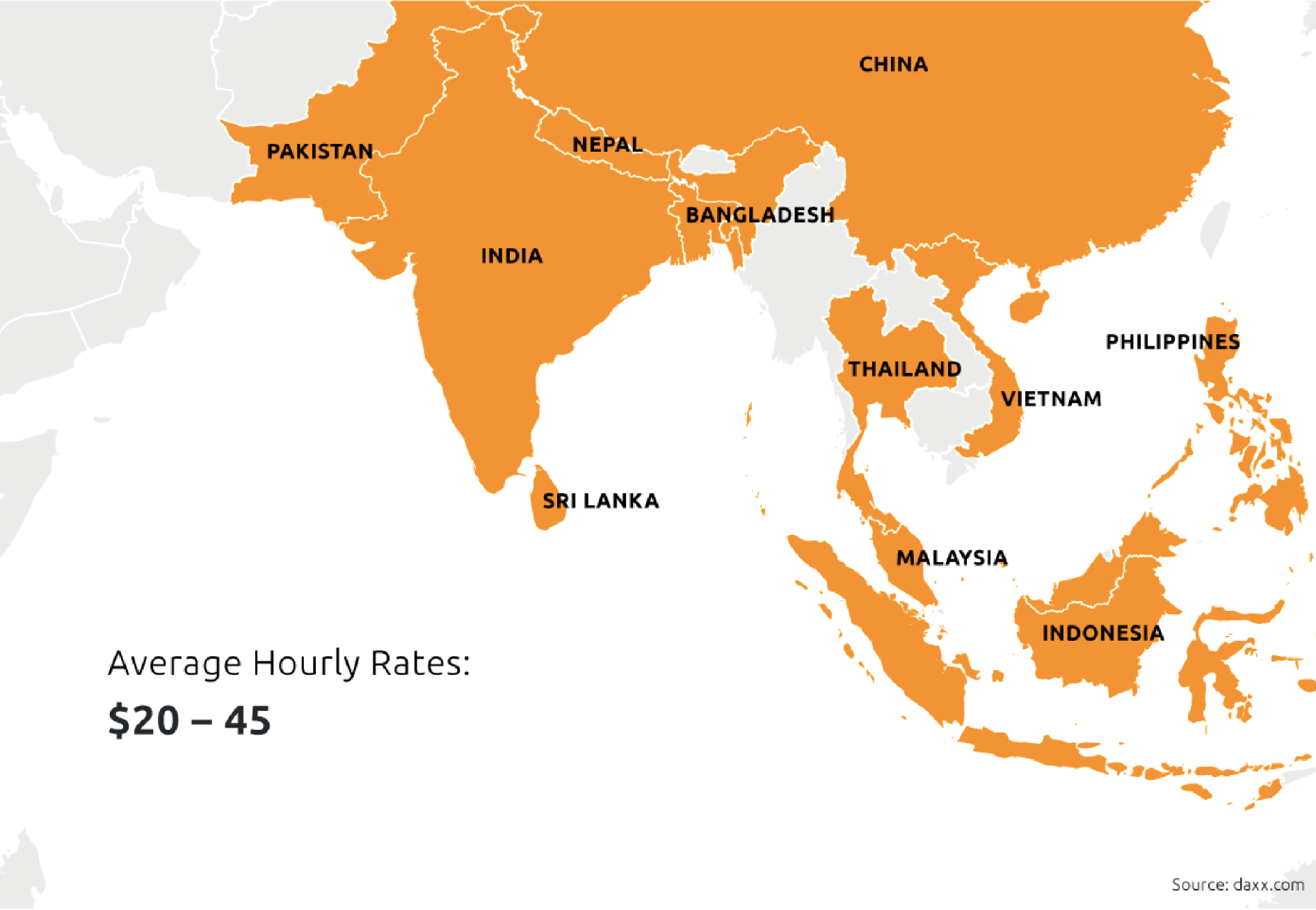 In Asia, IT outsourcing developer prices range from $20 for a junior offshore developer to $35 for an experienced offshore developer. However, outsourcing development prices in key Asian tech centers are climbing and can approach $40–45 per hour.  
Despite this, Asian offshore software development firms charge cheaper rates than their European counterparts. 
China and India are the primary Asian tech hubs with a huge number of software engineers – there are approximately 5 million global developers in each country. Vietnam is also a noticeable nation for providing outsourcing services in this region. 
Despite lower developers rates in Asian nations, the quality of projects is still at a high level. However, cultural variations and time zone differences may have an impact on the communication between both parties. 
Asia has a large pool of IT talent, with more than 10 million developers. The IT outsourcing rates in Asia are driven by several elements and might range a lot from country to country. 
1.7. Developers Rates In Latin America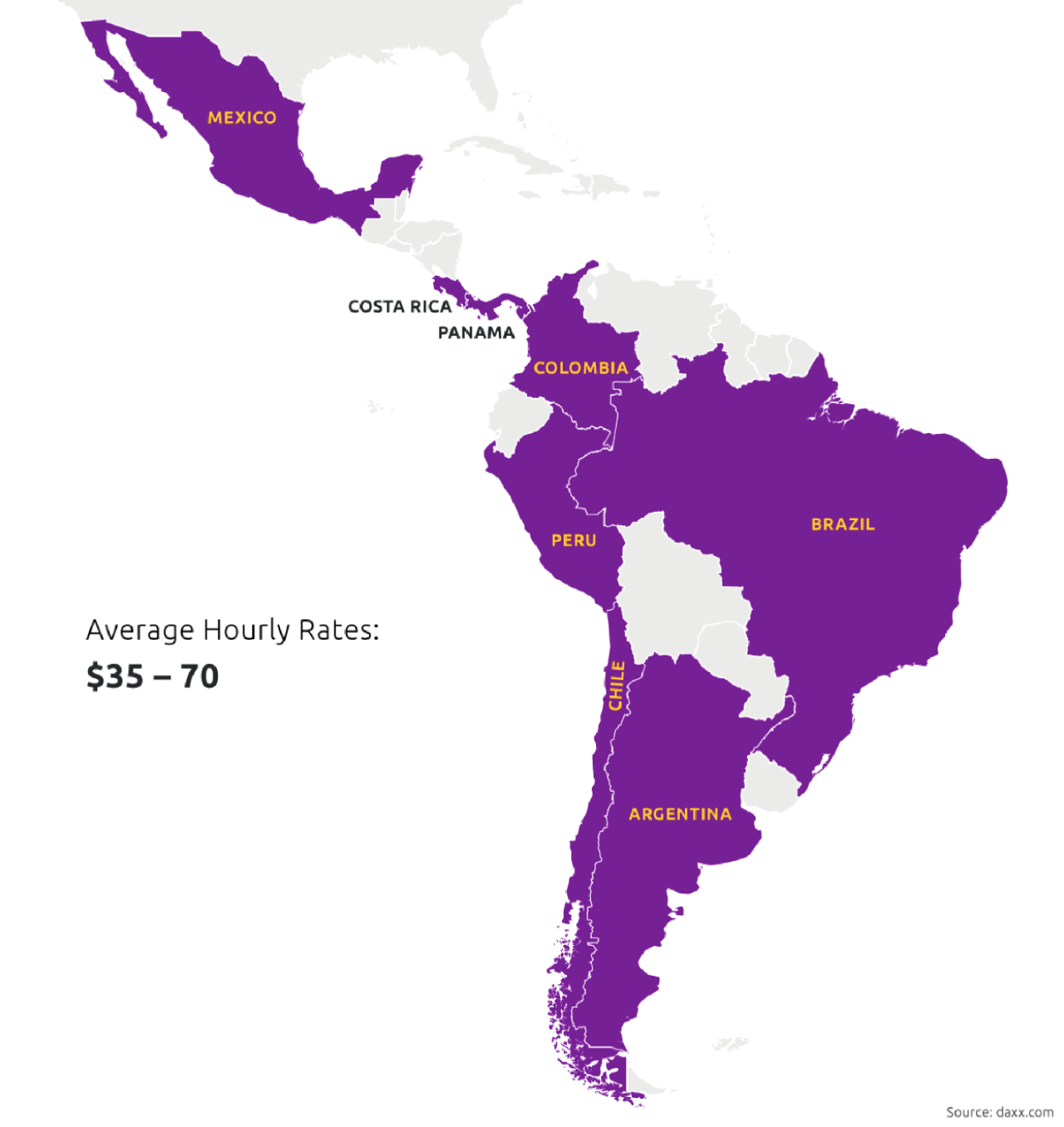 An hour's labor of a junior IT outsourcing software engineer from a Latin American country like Brazil, Argentina, and Mexico would cost you roughly $50. Outsourcing developer prices for senior software engineers reach as high as $70 per hour. Hiring the same specialized software engineer through a team augmentation company would lower the charges. 
Latin America is the most popular foreign software development location for North American IT enterprises. US corporations generally outsource software development due to much lower software developer rates that minimize the cost of product development. 
1.8. Developers Rates In Africa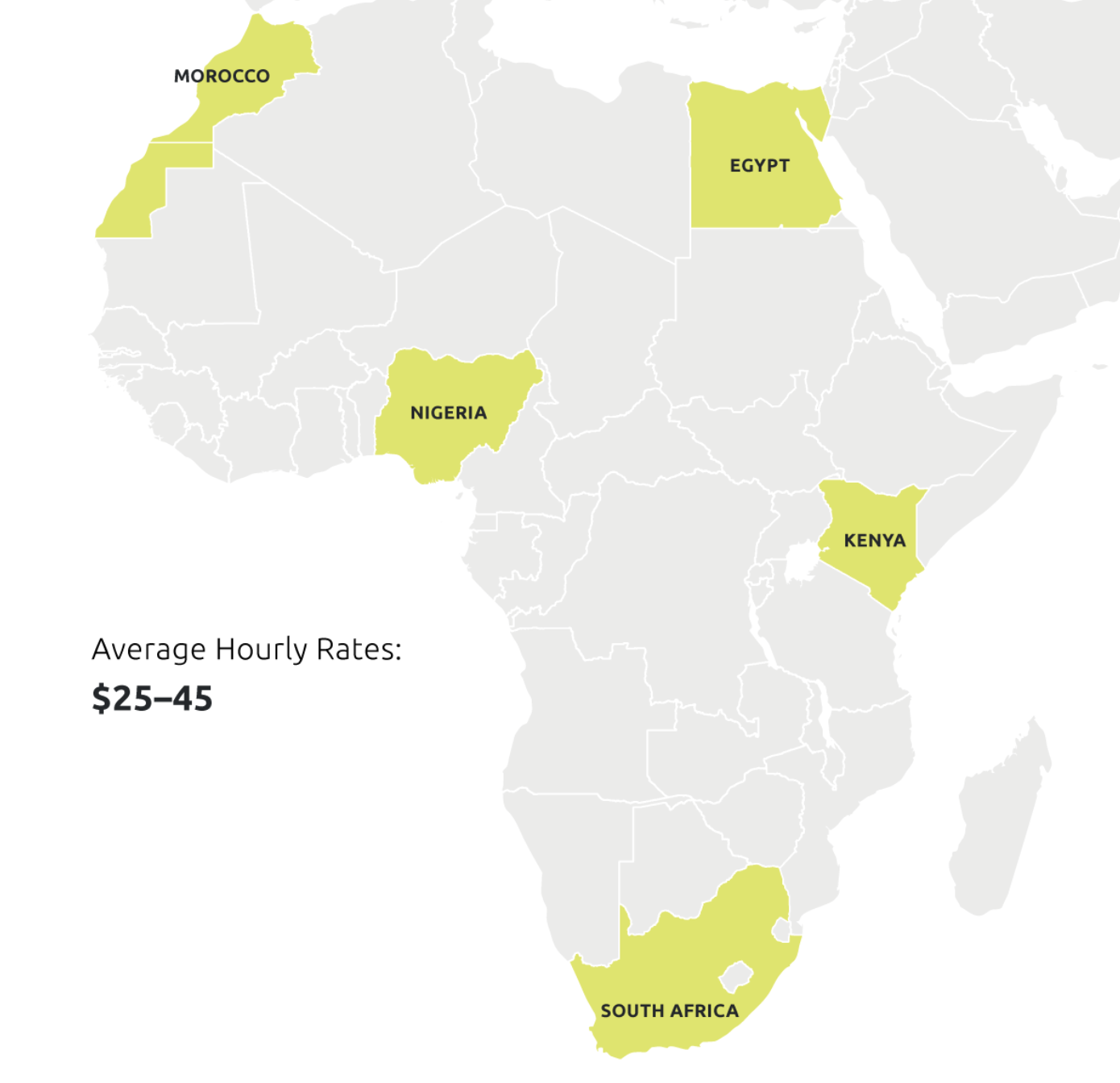 Hiring a junior IT outsourcing developer in Africa will cost you around $25 or less per hour. There is a wide range of pricing for outsourcing developers in Egypt, Morocco and Kenya. This is caused by a fairly limited skill pool of software development in African countries. An hourly developer rate in Egypt, Morocco, and Kenya vary approximately $40 on average. 
Source: DAXX
2. Hidden Costs
With outsourcing, the bulk of the in-house expenditures go and the cost structure becomes more straightforward and apparent. However, be mindful of the charges that are not so visible for the first calculation. Depending on the collaboration type, e.g. project outsourcing or outstaffing, you may have certain additional charges to take into consideration. These are recruitment fees, communication, travel, administration, legal documents and others.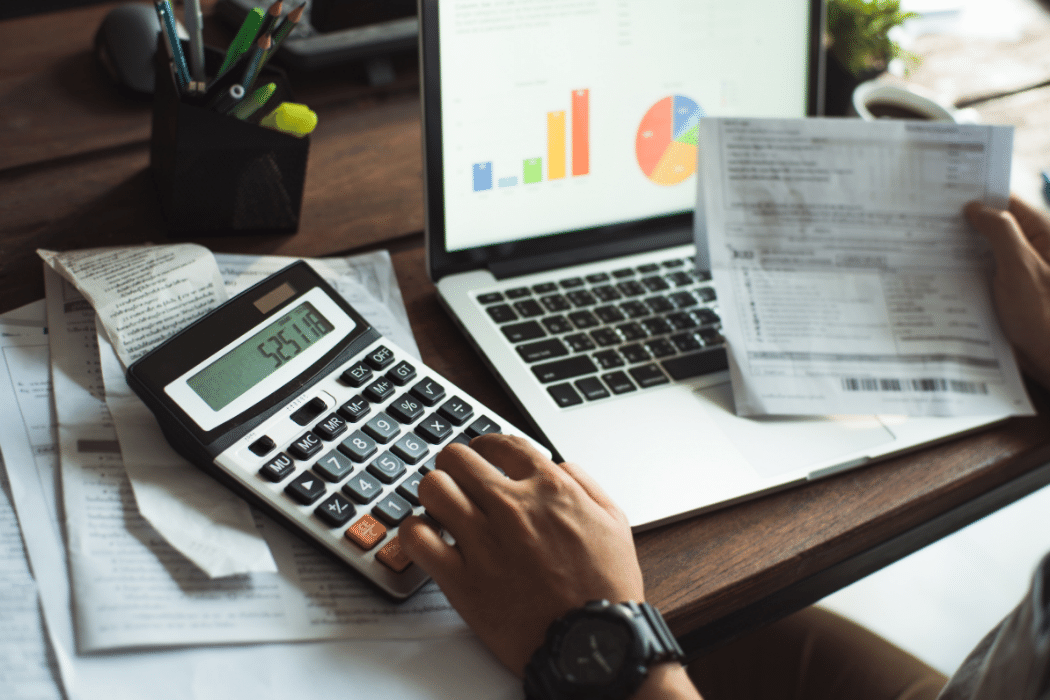 2.1. Recruitment
Everything you need to know about the screening and hiring remote engineers is right here. Not all IT outsourcing vendors charge for employment. Recruiting costs are already included in the partnership fees in staff augmentation models. 
2.2. Team Forming
A customer must negotiate contract terms and maintenance to form a remote IT outsourcing unit. Because there will be many extra expenses you have to pay for when forming a remote IT team. For instance: Infrastructure, tools, technologies, hiring process, employees' benefits and compensation, etc.
2.3. Legal Documentation
Outsourcing contracts with all of their associated SLAs, timeframes, and non-disclosure agreements are a need. You'll need the assistance of a legal professional to make sure that all issues of cooperation and punishment are taken into account. The cost for such service, as well as a charge to notary institutions, is generally ignored when determining the entire cost of outsourcing. 
2.4. Cost Variability Factors
In addition to the variation in cooperation models and their accompanying prices, be ready for large variances in pricing, and therefore the hidden amounts you can spend or save.  
These are the prices you'll eventually spend that vary depending on such things as location, the uniqueness of the given technical talent in the IT outsourcing market, level of expertise, English proficiency and the length of the engagement. 
B. HOW TO CHOOSE AN IT OUTSOURCING COUNTRY?
In order to choose the most efficient and suitable countries for IT outsourcing cooperation, you need to pay attention to numerous important factors, such as: average costs for IT outsourcing services, technology industry development, time zone variations and cultural relevance.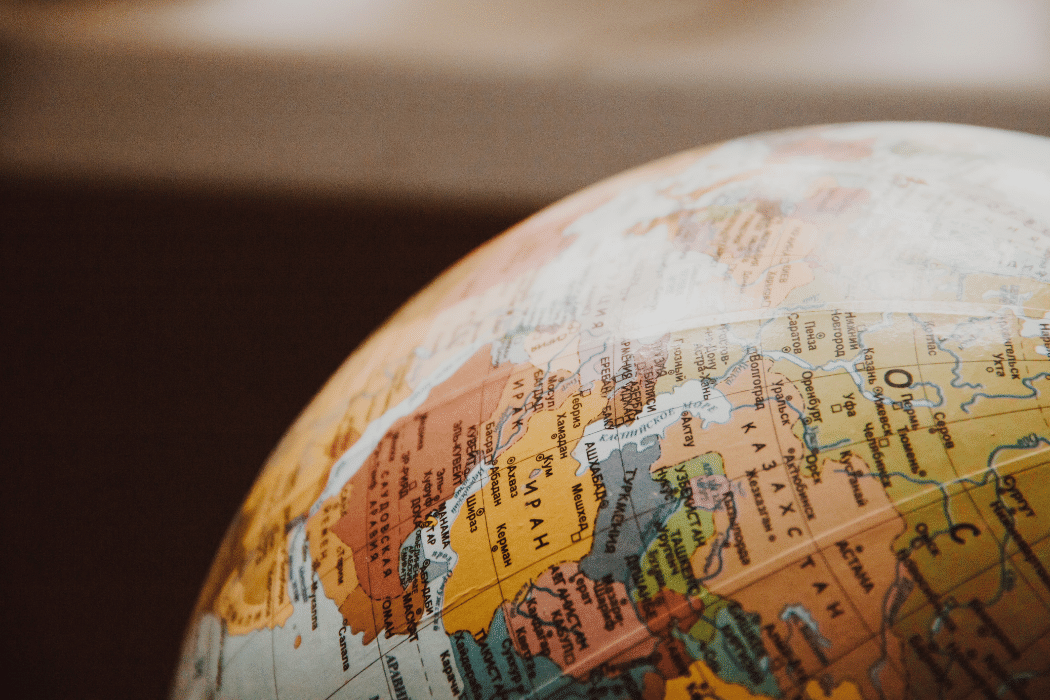 1. Create a list of developers' rates and compare them
IT outsourcing software development is mostly driven by a desire to reduce costs. 59 percent of businesses are led by this when picking the location to which they want to outsource of their product. Another concern of business owners is finding qualified employees, which is a difficult task when searching locally. The quality of your product, however, is what ultimately determines its success, and everyone knows that quality comes at a price. 
The first thing to start with when picking a place for IT outsourcing is to study and compare the average pricing for IT services. 
2. Study the situation of the IT outsourcing industry in different locations
The major indications for market research are the number of technical colleges that developers graduate from, the number of persons currently available on the marketplace, and the popularity of the technology stack that is needed to create your project. 
You're on the correct track if the country you're considering has a substantial pool of qualified IT engineers.  
If your project needs a specialist with a very unique technology stack, such as Scala, Groovy, Q#, Elang, etc., things get a bit tougher. 
3. Take into account the time difference
Though it's common to think that the development process is more efficient when there is a time-zone compatibility, this isn't always the case! For example, using "follow-the-sun" model – a sort of global cooperation in which problems are handled around the clock and passed between offices in various time zones, enhancing responsiveness and minimizing delays) might decrease the time to market. Follow-the-sun is used by IT outsourcing teams that are spread out around the world. As a result of the continuous process, reaction times are faster and time to market is shorter.  The consumers also get the same quality of help as at any location. 
4. Evaluate your cultural fit
There are many ways to check if your company's culture fits the IT outsourcing team you plan to hire. Gather comments from other businesses who applied IT outsourcing services and had experiences cooperating with a particular country. 
You can also contact other businesses in the intended country and ask about all your concerns. For instance, the legal system, tax collecting system, project management, etc. 
The problem of cultural compatibility is significant as it creates a good environment throughout the work process and the final product. 
Bottom Lines
By now, I hope you have a clear grasp of the differences in IT outsourcing rates in all regions. Always keep in mind that cheaper is not always better. Because, by the time the project reaches the launch stage, you'll have to spend extra for various remedial tasks.  
This means that the overall purpose is to find the balance between low cost and high quality. The savings won't be worth it if the product doesn't satisfy your company objectives. Hence, choosing the right IT outsourcing company business will be the key to success.  
You can read the articles before making your decision: A COMPLETE GUIDE ON HOW TO HIRE AN IT OUTSOURCING TEAM IN 2022 
There is still an easier answer to help you find the high-quality with affordable price IT outsourcing company: Innotech Viet Nam 
————————– 
With 14+ years of experience, 200+ projects done, and a team full of talented individuals, Innotech Vietnam can be a reliable partner if you are looking for an IT Outsourcing company.  
There is a lot of information about the clients Innotech now serves on our website. We attempt to provide you with the sense of security you need to enjoy enhancing your business with us.  
Contact our team of experts if you have any queries or concerns about outsourcing and we'll be more than pleased to assist you.  
Mail: [email protected] 
We're here to help and answer any question you might have. We look forward to hearing from you.