Logistic Management Software is the backbone of all Supply Chain Management Systems. It is responsible for organizing, planning, managing, implementing processes for moving and storing goods, converting complex operations into an understandable and simpler way. Inbound and outbound transportation management, fleet management, order fulfillment, Logistics network design, inventory control, supply, demand planning and management of 3rd party logistics services providers also fall under this system.
The movement of material in the whole supply chain is called logistic management. The usage of software for managing all functions related to the storage and delivery of goods is called Logistic Software solution. Multiple companies offer Logistic Softwares but to choose the suitable for your organization requires the knowledge of the same.
Choosing the best Logistic Management Software is a laborious task. One needs to have detailed information about it. It also depends on the business' requirement. Here are some few points you can consider when finding the best Logistic Software Development Company for your organization.
The System Covers The Basics
The basic function of any Logistics Management Software is productivity and efficiency enhancement, in warehouse operations, aimed at saving money and improving customer satisfaction. A comprehensive suite covers everything from supply chain planning to control of inventory, and from the refining of warehouse functions such as picking, packing, slotting and shipping, to streamlining transportation routines, and much more. Side by side, it co-opts logistics tracking software to improve transparency and enforce greater control over operations.
Look for basic features like:
Multi-client architecture that supports more than one customer at a time. 

Real-time inventory control and visibility. 

Efficient costing and invoicing control functionality to process and apply service contract policies in real-time, to facilitate prompt invoicing

Logistics tracking software, which automatically sends and receive shipping data, to improve accuracy and offering unbridled transparency into cargo movements

Comprehensive reporting capabilities, with key data such as inventory figures, product histories and shipment records are all accessible remotely at the swipe of a finger or the click of a button, and more.

Automated vendor-managed inventory management, to processes and record replenishment requests, aimed at speeding up the supply chain and minimize stock-out situations

Multi-device capabilities.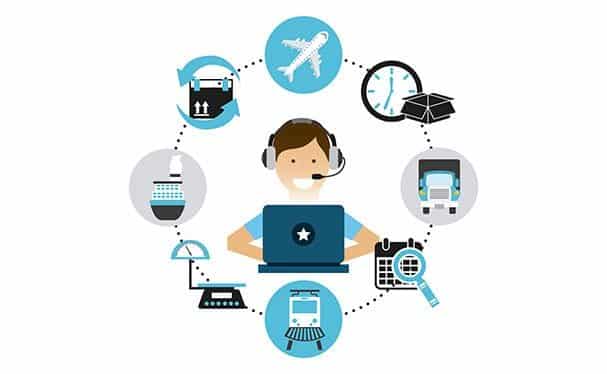 Key features for choosing a logistics software development company
Compatibility With Your Current IT Infrastructure
The chances are that this may not be your first logistics software system. Also, you may have a range of other software for different applications already set up and configured. Any new additions to your current IT infrastructure should further streamline your system, not add to the problem. 
As such, it will need to be compatible and adapt to your other logistics planning, database, reporting, and management tools. The new system needs to create a synergy and be open to the sharing of information with your other tools. 
Scalability and Security
Similarly to the point above, your new logistics software will need to be able to scale up based on the needs of your supply chain management software. Aside from managing a regular workload, it should also be able to handle periods of peak demand. 
In today's digital world, more and more companies are becoming dependent on technology for their day-to-day operations. Among these, we can include real-time supply chain visibility, tracking, and other such systems that many are moving to the cloud.
This way, they can better process large amounts of data, match all customer demands, and customize their logistics solutions to become more flexible. This, however, also means that this digital data needs to be secured. Look for a system that will provide enhanced security features. 
Customer Service and Technical Support
Aside from the system, itself, you should also choose a logistic software development company based on the people behind the scenes. Select a provider that provides you with a timely and highly responsive level of technical support. Nobody wants to deal with the classic "we are looking into the problem" reply. What you want, instead, is a team of trained professionals that will get on the issue as quickly as possible. 
Every new piece of software will have a learning curve, meaning that technical support is almost mandatory during the transition process. If you have doubts or feel unprepared to make full use of what the software has to offer, you should be able to receive employee training sessions. Never underestimate the usefulness of customer support service, as it is an integral part of the provider's technical expertise.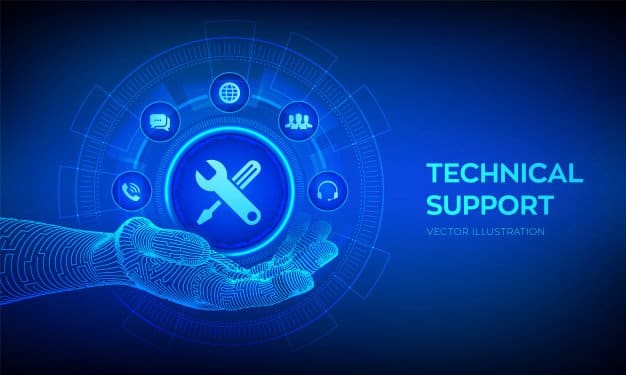 Technical support is an important factor when considering a logistics software development company
Overall Reliability
Last but not least, you should focus your attention on the overall reliability of the system. The more reliable the software, the less likely it is to encounter any failures down the line. Granted, nobody can guarantee you that the software will work perfectly all the time since occasional crashes and undetected bugs can happen in the software industry. 
What you should look for here is whether the Logistics Software Development Company is actively engaged in monitoring and fixing any and all software malfunctions with regular updates and patches. Cloud computing offers another level of reliability to the system since sensitive data is stored off-site on remote servers. This means that, in the event of a crash, security breach, accident, or any other kind of physical problem, this data will be safely stored elsewhere and readily available to you. 
Conclusion
Mentioned above are some of the most important things to consider when you choose a Logistics Software Development Company. Other factors that you should keep an eye on are the technology used by the company, their area of expertise, and their overall safety record. Making the right choice will help you keep your customers happy and your business profitable for years to come.
---
If you are searching for a logistics software development outsourcing to provide the solution for your company. Let us have the opportunity to support effectively your issues.
Contact experts at Innotech Vietnam for any questions about Logistics Software Development Outsourcing!
Email: info@innotech-vn.com