Offshore software development has benefits but it also has disadvantages such as close communication and open culture are difficult to combine with distance and cultural differences. But this can overcome when the company chooses a suitable method.
So establishing smooth collaboration between your onsite and offshore teams is crucial. And then, choosing a suitable methodology for an offshore software development company is the same priority. The agile offshore software development method works particularly well with offshore teams, as it encourages regular communication between the client and supplier to quicker product delivery and it can solve difficulties that are listed above.
Benefits of agile offshore software development
Agile Offshore Software Solutions is the fastest and most effective project management approach. It guarantees to give the customer exactly what they want fast and with zero errors. Have a look at some of the benefits agile offshore software development offers: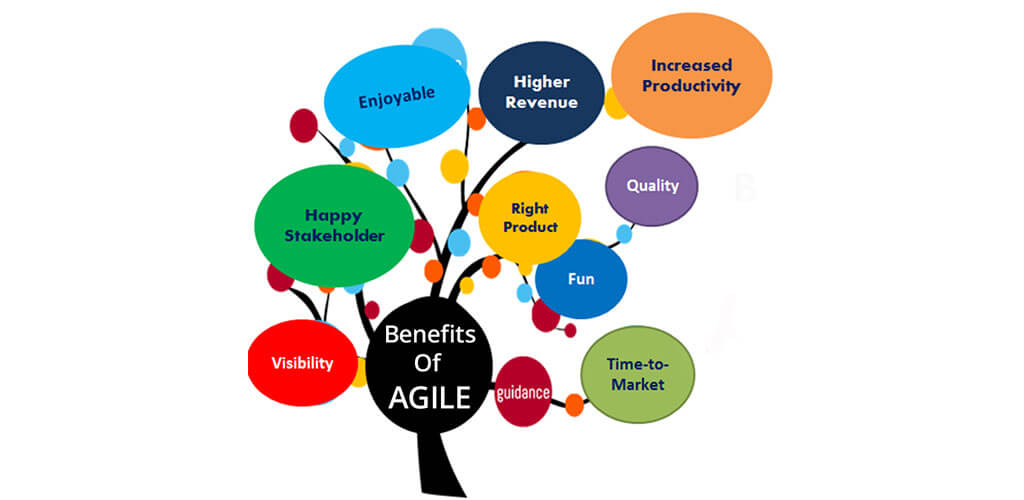 Benefits of Agile offshore software development
Product Quality: It increases product quality. Developers will regularly test the code and working emits all sorts of errors from the software.
Short Sprints: Since the whole project is divided into short sprints, the project manager handles the project with full control and makes updates at the end of every sprint. Every team member has full control over his task so the end product is free of inaccuracies.
Complete Customer Satisfaction: Agile approach ensures complete customer satisfaction because of the active communication between the developers and customers.
Reduce Risks: It reduces the risk of completing project failure because the project manager directly follows and checks, you will frequently receive updates on what's under construction.
Fast Delivery: With the Agile approach, development is started earlier. The product is released fast with fewer errors. Time to release products on market is important because it also affects project success.
Full Control on Budget: The Agile methodology also minimizes the cost of the project. Besides, you have full control over a budget when developing software.
Innotech Vietnam
Innotech Vietnam is a reliable mobile app development company in Vietnam. Be appreciated for high-quality products, services, and innovative solutions in a fintech company. We strive to create innovation and develop advanced fintech solutions. We provide a wide range of mobile application services, ready to meet all customer service requirements. The products and solutions we offer based on these advanced technologies become valuable for our customers through professional project management methods and tools to help customers effectively manage progress and resources a force of the project.
Innotech's head office
Innotech Vietnam has done more than 200+ mobile app projects for clients worldwide in Japan, the USA, Australia, Singapore and Vietnam. We're confident to deliver even the most complicated mobile app development project successfully in areas such as banking and financial, logistics, transportation, education, and other industries. More than 90% of companies have kept coming back to Innotech for a wide range of Mobile App Development and they enjoy the same standard of service every time. Besides, we are proud that we are trusted by many Institutions in Banking and Finance such as ACB Bank, Tyme Bank, Unifimoney, Manulife, Commonwealth Bank, …
The agile offshore software development lifecycle
There are a variety of Agile offshore software development methodologies, including, but not limited to:
Disciplined Agile Delivery (DAD)
Adaptive Software Development
Agile Modeling
Kanban
Scrum
Scrumban
Extreme Programming (XP)
Dynamic Systems Development (DSDM)
Feature Driven Development
Lean Software Development
The overall goal of each Agile method is to adapt to change and deliver working software as quickly as possible. However, each methodology has slight variations in the way it defines the phases of software development. Furthermore, even though the goal is the same, each team's process flow may vary depending on the specific project or situation. As an example, the full Agile offshore software development lifecycle includes the concept, inception, construction, release, production, and retirement phases.

The Agile offshore software development methodologies
The Agile offshore software development lifecycle is dominated by the iterative process. Each iteration results in the next piece of the software development puzzle – working software and supporting elements, such as documentation, available for use by customers – until the final product is complete. Multiple iterations will take place during the Agile offshore software development lifecycle and each follows its own workflow.
A typical iteration process flow can be visualized as follows:
Requirements – Define the requirements for the iteration based on the product backlog, sprint backlog, customer and stakeholder feedback
Development – Design and develop software based on defined requirements
Testing – QA (Quality Assurance) testing, internal and external training, documentation development
Delivery – Integrate and deliver the working iteration into production
Feedback – Accept customer and stakeholder feedback and work it into the requirements of the next iteration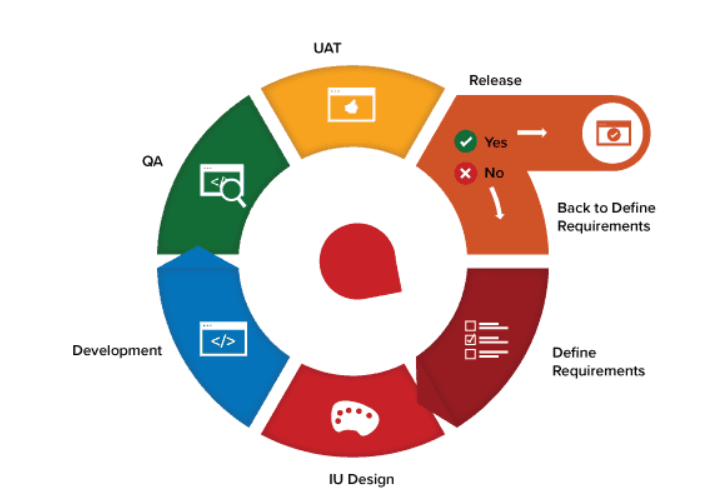 The Agile offshore software development lifecycle
Making the agile process for your company
As with any methodology, there are advantages and disadvantages. The Agile method is more suitable in situations where customers and project stakeholders are available to provide input, functional portions of the software are needed quickly, flexibility is desired to accommodate changing requirements, and the team is co-located and able to effectively collaborate. Below are four activities that will help support the adoption of Agile workflow:
Daily Meetings – Host consistent or daily stand-up meetings to maintain open communication, hold workers accountable, and keep each iteration moving forward
Live Demonstrations – Deliver live demonstrations of each iteration's final product to show progress
Share Feedback – Receive feedback from stakeholders and customers and share it with the entire team before the next iteration begins
Remain Agile – Make changes to your process based on feedback to ensure each iteration improves the last
Why should you choose Innotech Vietnam?
With more than 12 years of experience, Innotech Vietnam has experience in core banking software integrations for financial institutions such as ACB Bank, Tyme Bank, Unifimoney,  Manulife, Commonwealth Bank, etc.
Technical solutions and demonstration of a product or technique are available.
With more than 90+ mobile app developers, UI – UX Design, BA, project managers and QA/QC. Innotech staffs have good knowledge of banking and financial operation.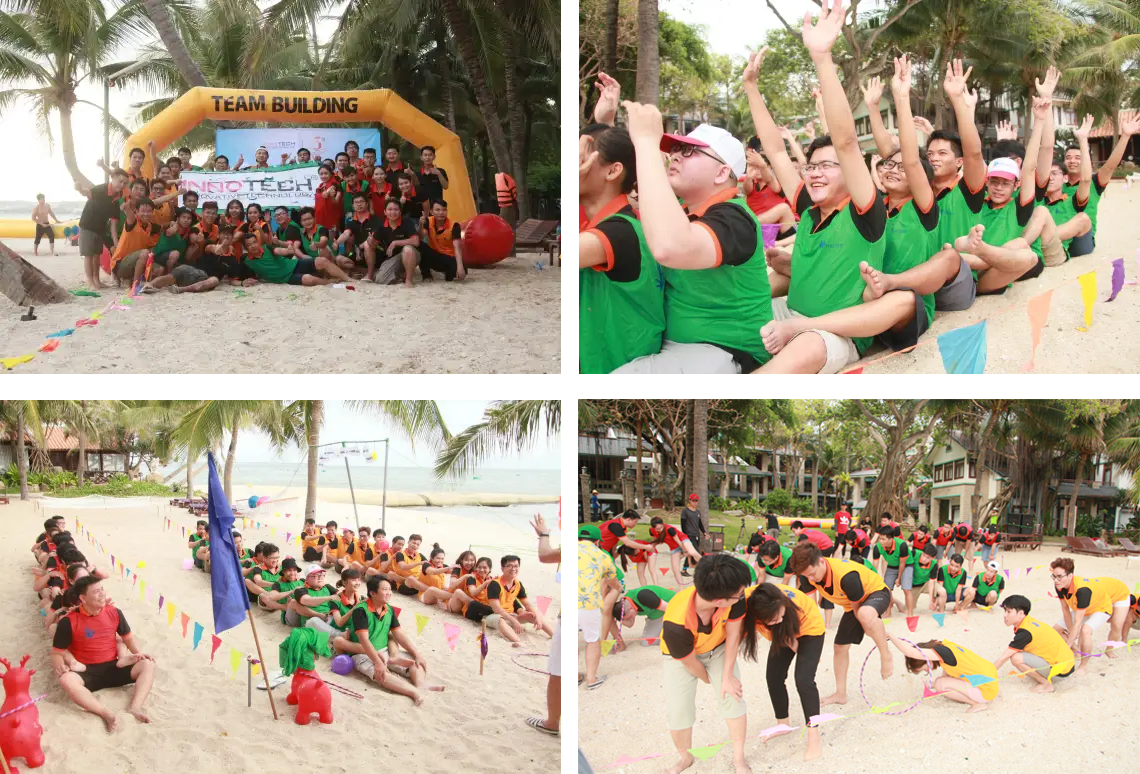 Young, dynamic, professional and creative engineers combined with highly experienced experts
Experience in consulting, deploying and managing mobile applications with more than 2 million users.
Maintaining the security and confidentiality of our client's projects is always our top priority. We try our best to respond to cybersecurity standards for the partner.
Read more case study:

If you are looking for a Mobile App development company to provide solutions for digital wallet companies, we're happy to grant our services. Contact experts at Innotech Vietnam for any questions about Mobile Application!