According to stats, the global outsourcing mobile app development market cost has reached up to a staggering figure of $88.9 billion. Moreover, a statistics report said that over 63% of outsourcing consultants are expecting numerous growth in their outsourcing business in 2019. This data shows that mobile app outsourcing has become more popular. With the increase of mobile application development outsourcing, mobile app development contracts have also evolved.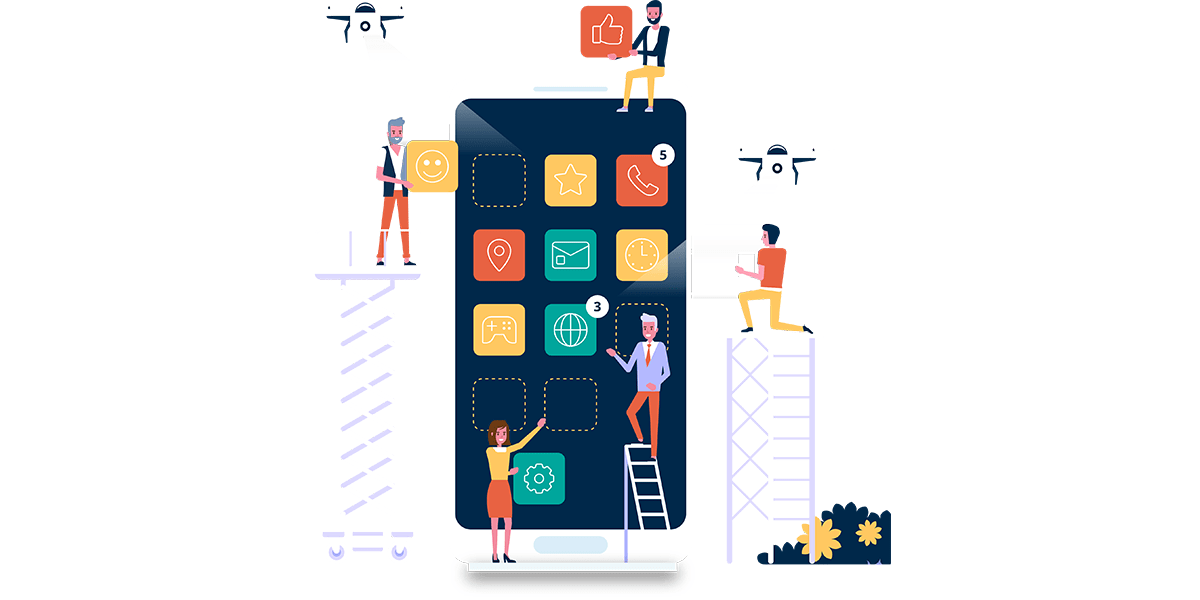 The global mobile app development outsourcing has been increased rapidly
So, how many types of mobile app development contracts? This article will clarify some main kinds of mobile app development contracts.
>> Read more: Choose the best offshore development center in Vietnam
What is a mobile app development contract?
Outsourcing an app development provider lets businesses have a chance of accessing high-qualified employees, new information and best practices with a cost-effective approach. 
However, it is vital to choose a flexible, transparent and suitable mobile app development contracts with traits of the business. This makes sure that mobile app development companies will deliver high-quality projects on time and benefit the client with the highest result.
There are three popular mobile app development contracts:
Fixed price contract

Dedicated resource hiring contract

Time & Material contract
Some types of mobile app development contracts
1. Fixed price contract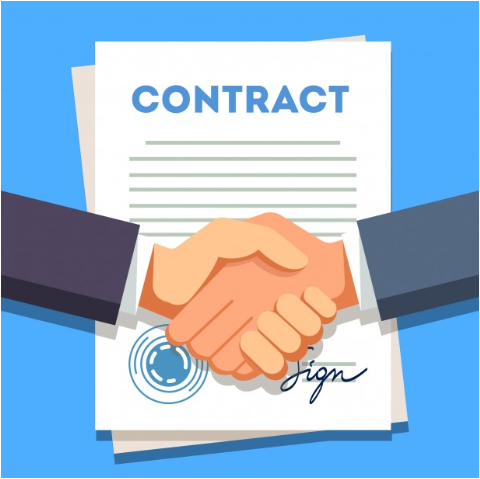 Fixed price contract
This kind of contract (also known as project-based) is perfect for small to medium-sized companies. All requirements, specifications, schedules and budget of a project is clearly defined before the beginning of the mobile application development project. Therefore, the clients can decrease the real-time unexpected financial problem. The project could be ensured to complete within the agreed budget and timeframe.
Although the fixed price contract is low risk for clients, it is important to prepare every detail and estimate of the affordable cost for the development project correctly. Because any changes in features or schedules would lead the price change.
Benefits of Fixed price contract
Clear requirements and well-defined objectives;

Perfect for small and medium-sized projects;

Make sure that the development project will be delivered on time with an agreed budget.
2. Dedicated resource hiring contract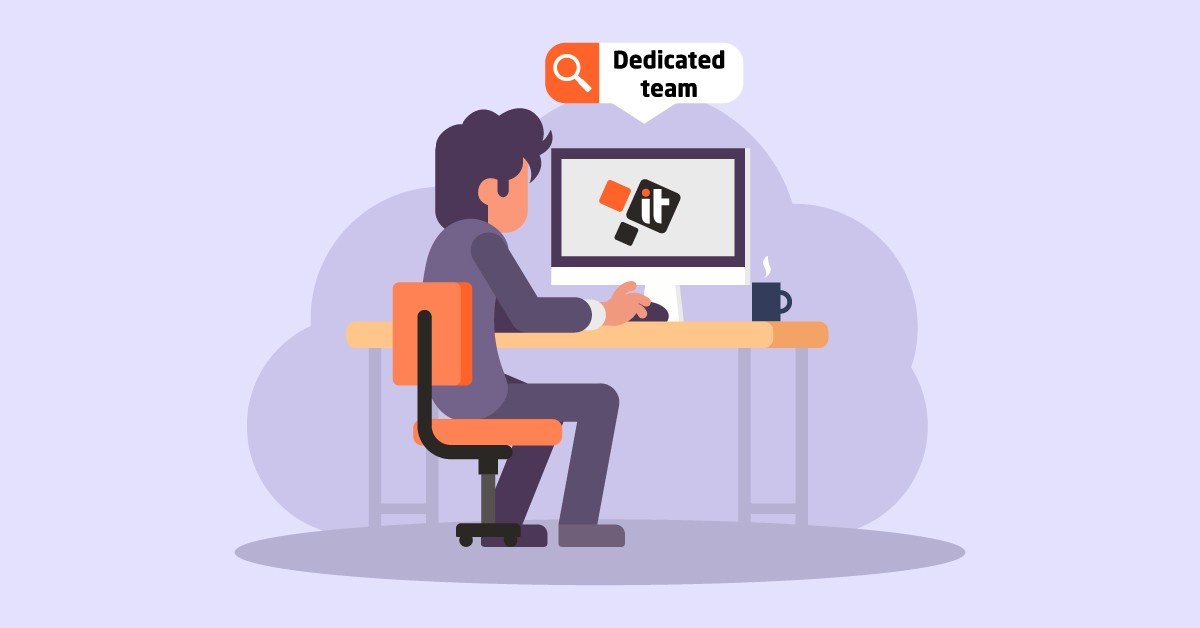 Dedicated resource contract
Dedicated resource contract is a type of business engagement model which is preferred by the clients who seek a professional and high-quality IT team for developing a mobile application or software. It helps a company flexible to choose a kind of talent developer due to its demand for a specified period of project time.
Research suggests that an enterprise can reduce project costs by up to 40% when using a dedicated resource contract. It is not only time-consuming but also expensive to hire new talent one by one and make an onshore team. 
In addition, even if the companies have their team of developers, they may not have enough knowledge and experience. Every IT project needs a dedicated team with high-skilled and great learning developers to improve the productivity of new software.
This type of contract is best suited for projects which the requirements are unclear and scope and features may change regularly. Clients have full control over the development projects through progress tracking tools and convenient interaction means.
Benefits of  Dedicated resource hiring contract: 
Transmission of project knowledge and familiarity with the client's business domain;

Low start-up cost and no hidden charges.
3. Time and Material contract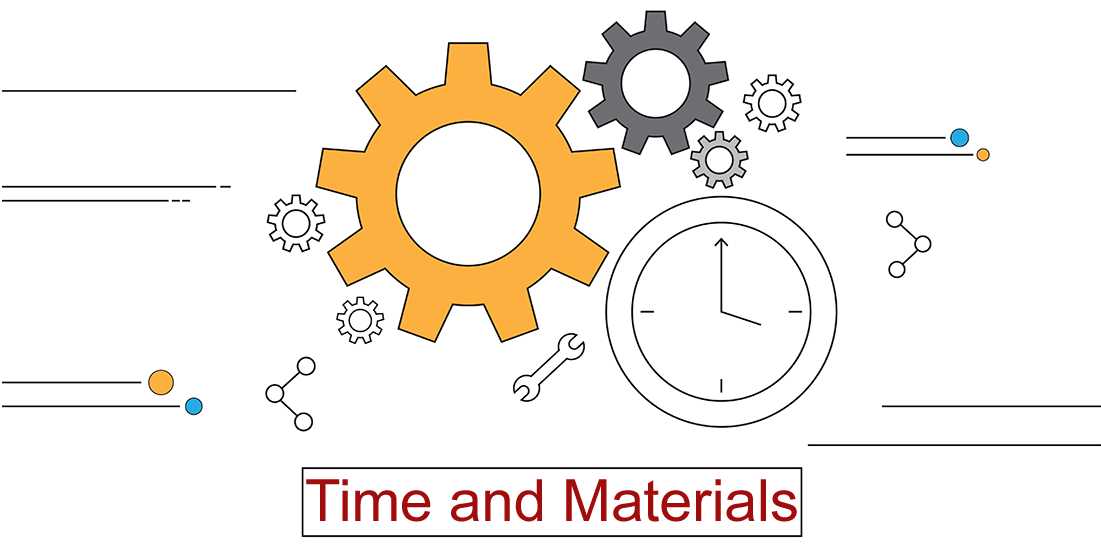 Time and Materials contract
This working contract of mobile app development depends on billing methods with the point is to avoid fixed contracts and a rigid budget. The technology environment always changes dynamically, the needs of building innovative software increasingly expand day by day. Development projects which are long-time and unpredicted about implementation specifics are suitable for time & material contract.
This option allows the clients to negotiate the amount of work, tasks, resources or other expenses in the period time with the IT team of offshore mobile app development company during the development process. To apply the Time and Material contract, clients have to be sure inaccurate time management. It is essential for the clients to be provided with an accessible way to track and control working time because they only pay for the hours.
Benefits of Time & Material contract:
Flexible and negotiable budget and low risk;

Suitable for large and long-term projects that are not able to predict the end of development product;

Specifications and enhancements can be negotiated during the projects. Clients can request task prioritizing for development projects.
To sum up, Fixed price contract is suitable with small and medium-sized development projects. If the development projects are unsure about the scope, requirements and features, companies should choose Dedicated resource hiring contract. Time and Material contract is best suited for large and long-term projects that they can not be predicted the end of development product.
If you are looking for a mobile app design and development company to provide solutions for your company, we're happy to grant our services. Contact experts at Innotech Vietnam for any questions about Mobile App Development!
Email: info@innotech-vn.com